ASHKANAM WINTER ACTIVITIES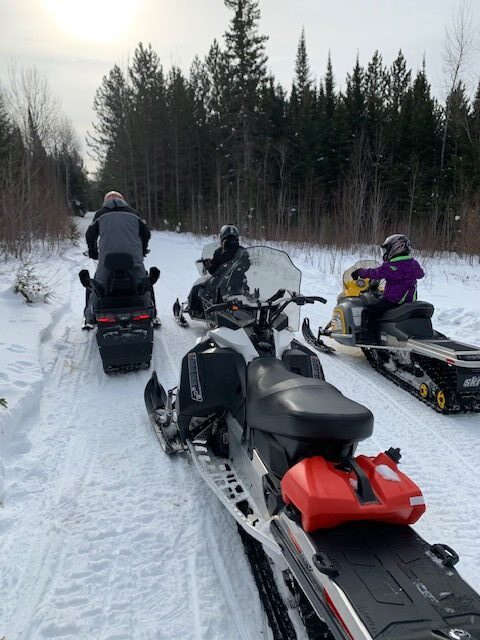 AshKaNam Lodge & Resort offers plenty of activities to keep you and your family entertained regardless if it's Summer or Winter. Of course, you can always simply relax and have a cocktail at The Lodge.
Enjoy our full-service resort, which is open year-round and is a great fishing destination regardless when it is warm or cold out. We are the gateway to many winter-related activities.
We provide many winter amenities to make your winter stay enjoyable. We offer Spear Fishing, Day Fishing Houses, Sleepers, Guided Day Trips.
We also provide Snowmobile Guided Trips along with snowmobile rentals.
Current Weather
Fishing Reports
---
Fishing Rentals
Need advice on fishing? Let our expert guides navigate you through the day.
Spearfishing or Ice fishing
What's included – propane, 1 decoy, 1 spear with spearfishing.

$25 to rent extra spear for the day.
$10 dollars to rent extra decoy.
OR can choose to buy live suckers.

Transportation to spear/ice house extra: prices vary due to distance traveled.
Option to rent snowmobile just for transportation to and from spear/fish house for $150 per day
Snowmobile Rentals MN
If the grounds white, time to rent our snowmobiles and sign up for guided trips to explore the trails.
NEW! 2020-21 Skidoo snowmobiles:

Starting at $225 and up. Call for prices.
(One person per snowmobile other than 2 up machines)

Snowmobile for transportation only: $150/day
Must be 21 to rent
Credit Card Damage deposit required on all snowmobile rentals. Any damages will be paid by the person renting. Forms will be signed before renting.
Prices subjected to change at any time.
All renters are responsible for any and all damages that may occur to snowmobile. Wavier form will have to be filled out and signed.
Fishing-House Rentals
We offer fishing-house rentals by the day or week
$175/day
Boat Storage
We offer boat storage for $1000 for the year.

Includes putting boat in the water and storing it.
Includes a boat slip
Winter Activity Rates
| | | |
| --- | --- | --- |
| Unit | Day | Week |
| Spearfishing or Ice Fishing | $175 | $$ |
| Snowmobile | $225 + | $1,200 + |
| Snowmobile – For Transportation Only | $150 | $$ |
| Ice Castle (Min 3 day rental for 2 people) $200 extra person per day | NA | 3 days ($1,000) |
| | | |
View All Rates – ALL RATES SUBJECT TO TAXES AND CHANGE.  PLEASE CONTACT BY PHONE OR E-MAIL TO CONFIRM RATES